Page 7 - West Virgina 811 Magazine 2022 Issue 2
P. 7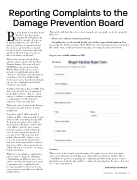 Reporting Complaints to the BDamage Prevention Board
This article will introduce you to the form and serve as a guide on how to properly fill it out.
• Please note only one violation per form
• You will notice a red asterisk beside some of the requested information. This means that the field is a required field. While the other information is not required to fill out the form, it will assist in investigating or locating the alleged violation.
Steps to successfully submit an AVR:
Section 1
Section 1
This section of the form is your information. It requires you to enter your name
and contact information including your email address and phone number. There could likely be questions regarding the complaint and without the proper contact information, it would be impossible to continue the investigation. Be sure to list your best contact information.
CONTINUED ON PAGE 16
2022, Issue 2 West Virginia 811 • 5
y now, many of you have heard that there is enforcement regarding West Virginia's dig law. For example, if someone
is digging without a one call ticket, that is a violation of current law and the violator can be held accountable for the violation. Some have asked the question, "How do I report someone who is violating our dig law?"
That's a fair question. In the Rules
and Procedures adopted by the West Virginia Damage Prevention Board (WVDPB) Section 4-1-4 states that WV811 will provide a space on its website for individuals and facility owners to call and provide information regarding a violation. Additionally, Section 4-1-5 states that the board shall also receive complaints via US mail, telephone and email.
An Alleged Violation Report (AVR) form was created for the web as stipulated
in the Rules and Procedures to allow anyone to submit a complaint against
a company/person who may in be violation of the state's dig law.
This form can be found on the Damage Prevention Board's website at www. wvdpb.com.
Some have asked, "When should I submit an AVR or when should I report someone who is violating the dig law?" To this question there is no right or wrong answer. From the earliest days of working to include enforcement (education and/or civil penalties) the idea of enforcement was promoted
as a last resort. The hope was that stakeholders would continue to try
to resolve issues in the field as they
had done in the past and if resolution was not possible, enforcement was an additional step to be used to encourage behavioral change.
While you can submit a complaint by phone, mail or email, the advantage
of submitting an AVR is it gives you a guide to provide information necessary to investigate the complaint. It also becomes available to the board or its representative as quickly as you hit the submit button.